New Carputer Products – March 2012
Rugged Fanless Intel Atom and Core i7 Barebones
The new Nuvo-PC-seris combines high quality with high performance and advanced extension possibilities.
Nuvo-2012 : Fanless Atom D525 barebone with 2x PCI slot and 1x PCI-Express 4x slot.
Nuvo-1003B : Fanless Core i5/i7 barebone with 3x Gigabit LAN and wide range-input (8-26VDC) and -temperature range (-25° to 70°C, down to -40° available on request)
Nuvo-1005B-103 : Like Nuvo-1003B, but with 5x Gigabit LAN and a PCI-104 Slot.
Nuvo-1003B (Intel Core i5 / i7, 3x LAN) [FANLESS]
Nuvo-1005B-104 (Intel Core i5 / i7, 5x LAN, PCI-104) [FANLESS]
Nuvo-2021 (Intel Atom D525, 2xPCI, 1xPCI-E) [FANLESS]
PCIe-Riser Set for M350 and Intel DN2800MT
This set enables you to use a PCIe card in the M350 enclosure, when using together with Intel DN2800MT Half-Height ITX mainboard.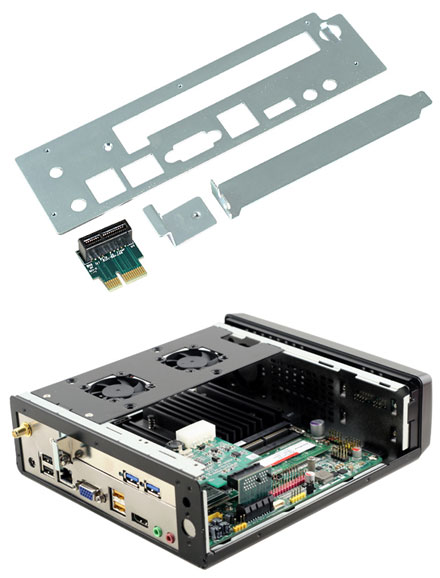 PCI-Riser Adapter-Set f. M350 enclosure and Intel DN2800MT mainboard