Carputer Products – July 2012
FleetPC-5-VID, Modular AMD based CarPuter with 4x Channel Video Input
This MiniPC was especially designed for fleet applications. The Car-PC can be connected directly to the car battery (12V/24V). Based on ignition plus, the PC will start and shutdown. The Carputer is completely fanless and is equipped with an AMD G-T56N 2×1.6GHz CPU and 2GB RAM.
Available additional modules:
The PC comes with 4x antenna-output and 3x Mini-PCIe slots.
We recommend these modules:
– HSPA / UMTS / EDGE Mini-PCIe Modem + GPS Combi card (Sierra Gobi2000)
– Wireless LAN / Bluetooth Mini-PCI Express [Qcom Combo]
Features :
– Fanless
– AMD G-T56N Dual Core CPU
– AMD Radeon HD 6310 Graphics
– 4x Channel Video Input
– 3x RS232
– 2x Gigabit LAN
– DVI-I
– Watchdog
– Prepared for GPS, WLAN, GSM/GPRS with ext. antennas
– 2 x DI / 2 x DO with Relay 12V / 100mA
– Vibration/shock tested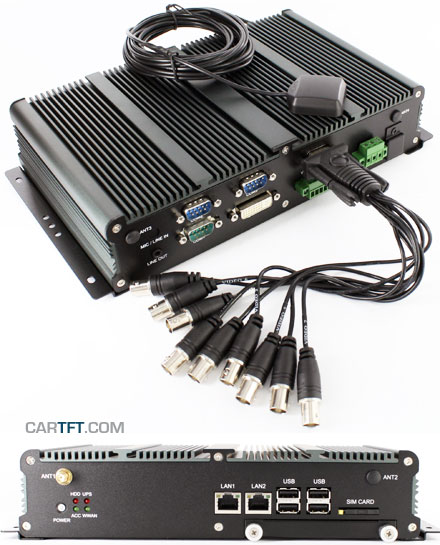 FleetPC-5-VID Mobile DVR Car-PC (AMD G-T56N 2×1.65Ghz, 2GB RAM, Autostart-Controller, 9-32V Automotive PSU, GPS, 4x Channel Video) [FANLESS]
Digital Signage Barebone Intel Core i3,i5,i7 Mobile 2nd Gen
Because of its size (200 x 153 x 35 mm !) the system is perfect for these applications :
– POS
– Digital Signage
– Kiosk
Or use as attractive office-computer or server.
Features:
– Compact Size with Intel Huron River Platform
– Support Intel Core i3 / i5 / i7 2nd Generation
– 2 x SO-DIMM DDR3 800/1066/1333 up to 8GB
– 1 x DVI-I, 1 x HDMI, 1x DP, 2 x GbE & 5.1 channel audio
– 1 x eSATA & USB Combo Connector
– CF Card Reader and 5 x USB (1x USB3.0)
– Optional WiFi or 3G Module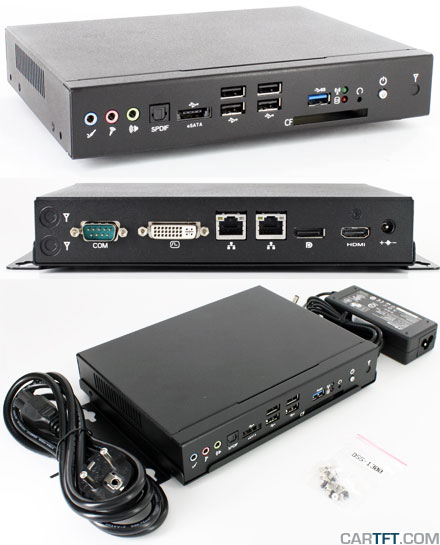 DSS-1300 Barebone (Intel Core i3/i5/i7 Mobile, eSATA, HDMI/DP, 2x Mini-PCIe, 2x LAN, USB3.0, CF)
Intel DN2800MT Half-Height Atom ITX enclosure
Simple, but efficient : With this enclosure you take full advantage of the small form factor of the Intel DN2800MT Half-Height mainboard. And with its dimensions of only 199x180x39mm it has, with an internal volume of less than 1.4 liters, room for one 2.5″ harddrive or SSD drive. The enclosure can be operated fully fanless with the Intel DN2800MT even under full load in continous operation.
The enclosure can also be equipped with other Thin-ITX mainboards.
MiniPC HAHE-DN-B enclosure (for Intel DN2800MT Half-Height ITX) [Black]
Stand f. MiniPC HAHE-DN enclosure
VESA screws f. MiniPC HAHE-DN enclosure