Carputer Products – November 2012
7-inch Android system for car/vehicle integration
This Android-System is perfect for integration in vehicle headrest or seats. It can be used by private customers (Infotainment) but also for commercial applications (eg. taxi, bus, ship/yacht, etc..)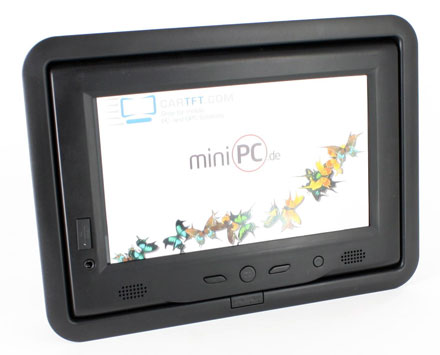 BSA700 (7″ Android 4.0 Einbau-System, 1.0Ghz CPU, 512MB RAM, LAN, WLAN, USB)
7-inch Windows 7 / Windows 8 / Android UMPCs
Actually, this PC is designed for children (under the Intel Classmate Study-Book project). As a result, these Tablet PCs are also ideal for applications in difficult environments. The PC is designed for everyday use, the housing is shock resistant and of high quality workmanship and value. Careless handling can not harm the system. Therefore the CarTFT X70EX-2 is also suitable for eg. car workshops and mobile use.
Comparison to RuggedMate Basic :
– 2GB instead of 1GB RAM
– 32GB SSD instead of 8GB
– 3G and Bluetooth
– HDMI output
CarTFT X70EX-2 BASIC (7″ Multi-Touchscreen, 1.2Ghz, 1GB RAM, 8GB SSD, WLAN)
CarTFT X70EX-2 PRO (7″ Multi-Touchscreen, 1.2Ghz, 2GB RAM, 32GB SSD, HSPA/UMTS, WLAN, Bluetooth) [without OS]
SIM card reader adaptor for 3G/UMTS modems
This adapter/reader enables you to connect your SIM card directly with your 3G/UMTS Mini-PCIe modem card. The adapter is placed directly at the modem and connected to the Mini-PCI Express slot together with the modem. The adapter works will all systems equipped with a Mini PCI-E slot (eg. EmbeddedPC, CarPC, MiniPC, Laptop, TabletPC, Android, etc..)
MonkeyBoard DAB DAB+ FM Digital Radio
Designed in Australia, the DAB+ FM Digital Radio Development Board provides a platform for developing and evaluating DAB+ and FM receiver. The board contains a Keystone T2-L4A-8650C DAB/FM module and a Microchip PIC18F14K50 microcontroller. The T2-L4A-8650C module is an ultra low power DAB/FM receiver module with the following features:
ETSI EN 300 401 compliant receiver
DAB/DAB+ sensitivity to -99dBm (typical)
Decodes multiple audio services up to 256kbps without external RAM
FM with RDS (*** RDS reception only available for station name, station text and genre and is subjected to certain condition of power level and frequency deviation)
Combined antenna input for FM / Band3
Support DAB L-Band reception (*** Although the Keystone module supports L-Band, the SMA connector has no connection to the L-Band pin, customer will need to solder a separate antenna and other passive components to make it work.)
Serial control interface
RoHS compliant
The Microchip PIC18F14K50 provides a USB to Serial interface for the T2-L4A-8650C module to communicate with the host PC. Despite the sample code provided in this Development Board for communicating with the board is based on serial communication, user can analyse the serial communication and implements a driverless HID protocol by rewriting the firmware on the PIC18F14K50.
What can you do with it?
Build a PC controlled DAB+ FM Digital Radio
Build a CAR PC DAB+ FM Digital Radio
Build a standalone DAB+ FM Digital Radio (requires external microcontroller)